RD-W66AP/ 300Mbps Ceiling Style Wireless AP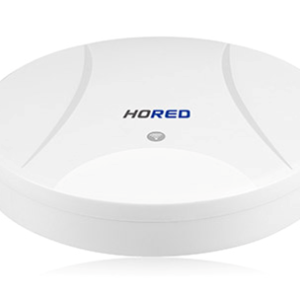 RD-W66AP/ 300Mbps Ceiling Style Wireless AP
FEATURES :
High performance, high throughput, large load devices
• Intelligent RF management
• Safe and reliable network
• Intelligent load balancing
RD-W66AP is one of the high-performance ceiling wireless AP, designed for hotel, restaurant and entertainment venues. Using 580MHz main chipset; Support 802.11b/g/n protocol; Customized wireless operation system; built-in high-gain omni-directional antenna; Stronger signal coverage; More stable connection and faster transmission. RD-W66AP has a wealth of radio, mobile, security and management features. Choose Fat or Fit working mode base on different requests to set independent network. Support AC remote management and it's easy for maintenance.

DOWNLOAD
High performance, high throughput, large load devices
Wireless use high-performance network processors, high-performance wireless power amplifier (PA) and the receiver (LNA), and multi-stage filtration amplification. With the high transmission speed, intelligent Qos algorithm, good signal through wall, the wireless AP can support large numbers of devices.
Intelligent RF management
Wireless AP provides automatic power and channel adjustment. Optimize RF efficiency through proprietary RF detection chipset and RF management algorithms. When the AP signal is strongly interfered by external signal, automatically switch the appropriate working channel to avoid signal interference. Switching the communication bandwidth and optimize the wireless path to ensure smooth network.
Safe and reliable network
It provides a wealth of network security features, such as hidden SSID, guest network, MAC address filtering, anti-ARP attack, Multi-SSID isolation access and so on. It can be combined with back-end authentication system, billing system, security access system to implement user access control management, in order to provide effective security protection of wireless network and user access.
Intelligent load balancing
Support load balancing methods base on the number of users and traffic. When the wireless controller find that the wireless access equipment load exceeds a set threshold, it will automatically check if there is other nearby wireless access point for the new access users
Energy saving and Environmental protection
Use low power consumption, high-performance design, Standard RF and radiation index. Support dynamic MIMO power saving mode (DMPS) and automatic power save delivery (APSD). Identify terminal actual performance requirement intelligently. Rationalize the deployment of the terminal sleep queue, and dynamically adjust bi-directional power between the AP and the client, in order to reduce the power consumption of devices
Simple installation and maintenance
Support POE IEEE802.3af power supply and DC power. It is easy installation and deployment, simplified construction, safe and reliable standard protocols